Active adults can join us each month for a 30-minute walk on the indoor track, followed by talk & tea. Tea is sponsored by David's Tea in Naperville.  Members may bring a one guest for free to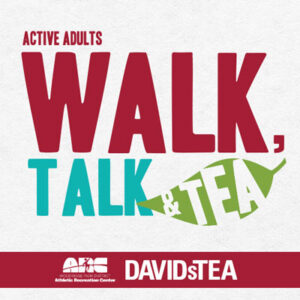 this event and should RSVP for themselves and their guest by calling (630)353-3444 or in-person at the fitness desk. All members and guests should check in at the fitness desk.  At the end of the talk we will have a drawing for prizes, 1 for members and 1 for guests.
Monday, August 14th │ 10:00-11:30 a.m.
Flexibility and Balance Training: The Beginning of a Confident Day; Presented by ARC Personal Trainer, Maxx Lozano, and ARC Guest Services Staff, Kristi Holt
Whether you are a fitness first-timer or an advanced fitness member, increasing flexibility and balance will help improve the daily activities of your everyday life. The hardest step in any plan is when and how to begin. You will learn why flexibility and balance training is important, as well as what is available for you here at the ARC.