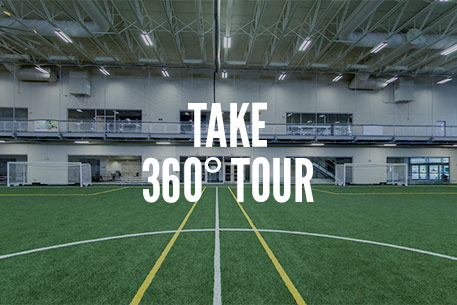 The 40×60 yard artificial turf athletic field can be subdivided into two 30×40 yard fields complete with baseball/softball batting cages, scoreboards, spectator seating and safety netting throughout the entire space. FieldTurf®, a world leader in artificial turf, installed the HD Classic turf system which features a safe, natural cork infill material on the top layer in place of traditional crumb rubber based systems. The turf is home to youth and adult programs, clinics, leagues, tournaments and rental opportunities including, but are not limited to: soccer, lacrosse, 7v7 football, rugby, youth softball, baseball practice, ultimate Frisbee, cheerleading, open play, special events, lock-ins, and much more.
Open Turf
Fitness members enjoy free access to any scheduled open turf. Please note that open turf at the ARC is supervised, but it is not an organized event. Participants should be prepared to play with others and share the turf.
Visit the Open Gym & Turf web page for the current Open Turf schedule.
| | | |
| --- | --- | --- |
| Open Gym & Turf Daily Fees | Resident | Non-resident |
|  Youth | $4/visit | $9/visit |
| Adult | $5/visit | $10/visit |
| Adult M-F Before 3:30 PM | $3/visit | $5/visit |
| Senior (60+) | $3/visit | $5/visit |
| | | |
| --- | --- | --- |
| Open Gym & Turf Punch Pass Fees | 10 Visits | 20 Visits |
|  Resident Youth | $25 ($2.50/visit) | $45 ($2.25/visit) |
|  Non-resident Youth | $50 ($5.00/visit) | $90 ($4.50/visit) |
|  Resident Adult | $35 ($3.50/visit) | $60 ($3.00/visit) |
| Non-resident Adult | $70 ($7.00/visit) | $120 ($6.00/visit) |
| Resident Senior | $20 ($2.00/visit) | $30 ($1.50/visit) |
| Non-resident Senior | $30 ($3.00/visit) | $50 ($2.50/visit) |