Many people achieve amazing results when working with a trainer. Let our personal trainers create a training program customized for your individual needs and goals.
| | | | | |
| --- | --- | --- | --- | --- |
| Personal Training (60 minute sessions) | 1 Session | 5 Sessions | 10 Sessions | Buddy (2 people) |
| Fitness Member | $47 | $45 per session | $43 per session | $75 per session |
| Nonmember | $56 | $54 per session | $52 per session | $90 per session |
Meet the Trainers!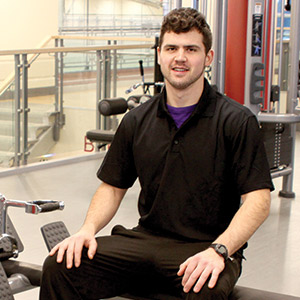 Jeremy
Certifications: Athletics and Fitness Association of America Certified Personal Trainer, Core Power Yoga 200 Hour Certification
Jeremy developed a passion for fitness at a young age while he was training in his driveway and running hills in his neighborhood. He played on his high school's football, wrestling and track teams and received his bachelor's degree in exercise science at the University of Iowa. Additionally, Jeremy interned with the University of Iowa's strength and conditioning department and recently trained and completed several Reebok Spartan Races.
He believes an emphasis on core strength, balance and flexibility is essential for maximizing gains and that large muscle groups need to be engaged to ignite caloric burn and fat loss.  His training style includes high-intensity interval training, sculpting and Vinyasa yoga.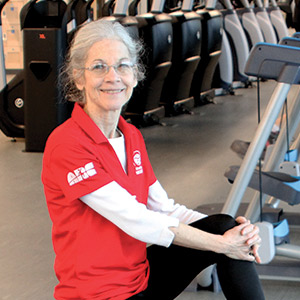 Linda
Certifications: American Council on Exercise and YogaFit Certified Personal Trainer and Group Exercise Instructor
Linda has been in the fitness industry since 1984 and holds a master's degree in exercise science from the University of Illinois at Chicago. Previous to her fitness career, she was a professional modern dancer. Linda feels that proper form and execution are crucial to the safety and effectiveness of performing exercises and other movement disciplines. She enjoys guiding her clients to discover their strengths and limitations while encouraging them to appreciate what their bodies can do.
Lamont
Certifications: American Council on Exercise Certified Personal Trainer
While attending the University of Nebraska at Lincoln, Lamont studied criminal justice and played football for the Nebraska Cornhuskers. He trains both youth and adults and specializes in speed and agility training. Two of Lamont's previous clients are professional NBA and WNBA players: Frank Kaminsky from the Charlotte Hornets and Ariel Massengale from the Atlanta Dream.  Lamont believes his training approach is effective because he is honest, compassionate and loyal to his clients.
Maxx
Maxx graduated from Elmhurst College with a bachelor's degree in exercise science and a minor in coaching. In addition to personal training, he is also a high school wrestling coach.  As a young athlete, Maxx sought out ways to gain an athletic edge on his opponents. Now as a personal trainer, he helps others obtain those same goals for either sports or for health reasons.  When designing a training plan for his clients, Maxx assigns exercises that are related to athletic situations or everyday activities. His plans are also designed for improvement and to help build confidence.
Mike
Certifications: National Personal Training Institute Certified Personal Trainer and Basic Nutrition Certification, CPR/AED Certified
Mike has been involved with sports and fitness pursuits most of his life. He played baseball as a child and continues to play in an adult baseball league. Mike ran in the first two Richard J. Daley Marathons (now the Chicago Marathon) and loves to play golf. Additionally, he became a basketball coach at the age of 14 and continues to do so, now with an IHSA coaching certification.
Whether a client's goal is weight loss or enhanced athletic performance, Mike has a complete package to offer his clients. He will conduct a health and fitness assessment, assist in the setting of attainable goals, facilitate and monitor a personalized program and continually motivate the client.
James
James has been a personal trainer since 2005 and specializes in speed, agility and Olympic weight lifting movements. He incorporates compound movements into most of his workouts and focuses on form above everything else. He can lead you through high intensity interval training workouts and even boxing and Brazilian Jiu-Jitsu proficiency.
Carmela
Certifications: Certified Health Coach, Exercise Physiologist through the American College of Sports Medicine, Balanced Body Pilates instructor
Carmela is passionate about fitness and helping you reach your individual lifestyle goals. She received her bachelor of science degree in Exercise Science and has experience in sports performance and older adult specialization.